360 PHOTOBOOTH
Take your event to the next level with our versatile 360 photo booth. 360 Photo booth is compatible with many different photo capture technology.
From using a iPad, Smartphone GoPro or DSLR camera, you can be sure the 360 photo booth will bring the life of the party!
SHOP NOW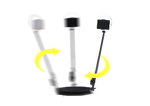 360 SPIN
Pair large text with an image to tell a story, explain a detail about your product, or describe a new promotion.
Product Title
$16.99
This area is used to describe your product's details. Tell customers about the look, feel, and style of your product. Add details on color, materials used, sizing, and where it was made.