System Packages
Don't want to build it yourself? Here's our System Packages to help you get started
What else do I need?
Photo Booth Electronics
Camera A/C power adapter add to cart
Surface Pro Tablet
Photo Booth Software
Hot Shoe (used to sync your camera to your strobe flash)
Power Strip
Photo Booth Accessories
Supported Electronics
Microsoft Surface Pro 4 up to 7
Microsoft Surface Pro 8 or 9
Most Canon DSLR Cameras
External Strobe Flash with Flash Rod and Umbrella
Recommended Software
Windows Base
IOS Base
Fotofliqs.com
Curatorlive
Snappic
Fotozap
Shipping & Returns
You will receive the tracking number as soon as your order is dispatched. We use USPS or UPS Ground for shipping, unless you specifically request expedited shipping.
Return & Refund Details Click: Return & Refund Policy
International Shipping
Yes, we ship worldwide. We advise our international customers to email us first and communicate with us on the product they want to order so that we can properly monitor the orders. Most international order requires more attention than our United States customers simply because of the shipping process.
We kindly request our international customers to handle their own shipping arrangements. You have the option to use international shipping services provided by companies such as International Parcel Service (ipsparcel.com) and MyUS (www.myus.com), or select any other shipping provider of your preference.
Please ensure that you obtain insurance coverage for the shipment, equivalent to the full purchase price.
Please note that any customs, duties, taxes, and/or broker's fees in your country are the sole responsibility of the customer.
If you still
Warranty
Our photo booth platforms, photo booth shells, photo booth systems, and mirror booth products come with a 1-year manufacturer's warranty. In the event that any part fails, please contact our support team on our contact us page and we will work with you to resolve the issue.
KNOB-LESS TILTABLE HEAD
Our advanced photobooth comes equipped with a smooth friction tiltable head unit, allowing you to capture a wide range of subjects with ease.
Whether you're taking a photo of a large group or an individual, the tiltable head unit makes it easy to adjust the camera angle to suit your needs.
SYNCHRONIZED RGB LED EDGE
Photo booths feature remote-controlled multi-colored LED edges that provides a brilliant ambiance, drawing guests towards the booth and commanding attention as the centerpiece of the event.
With over 300 LED effect presets, these illuminating enhancements raise the bar on atmosphere, leaving a lasting impression and Becomes undoubtedly the center of attention at the event
PORTRAIT & LANDSCAPE CAMERA MOUNT
The DSLR camera can be easily configured for full body shots in either portrait or landscape orientation without the need for any tools.
240 LED RING FLASH
The Lumia M Basic features a dimmable 240 LED ring flash with a color temperature range of 3200-6500K.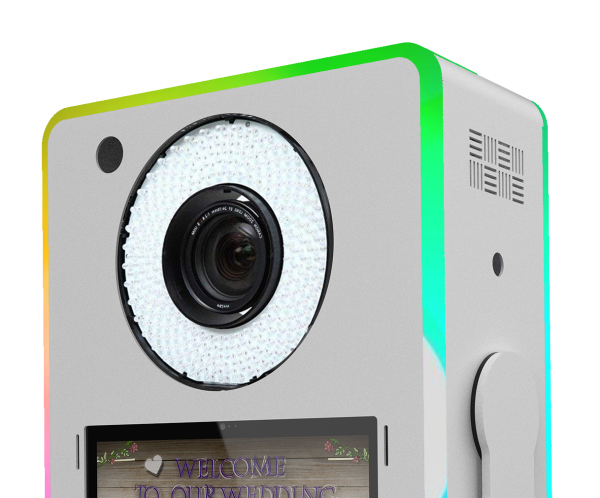 QUICK ASSEMBLY BASEPLATE ALIGNMENT
Our photobooth's column and baseplate feature a quick alignment design, making assembly easy and efficient. This design innovation simplifies setup and is a user-friendly feature.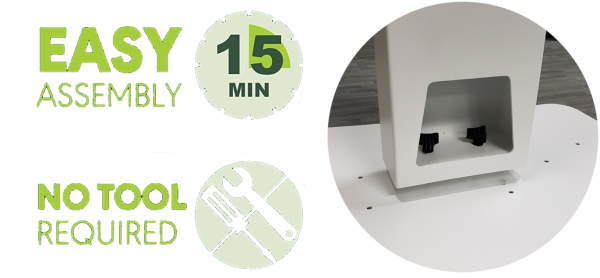 NO TOOLS ASSEMBLY REQUIRED
Say goodbye to the stress and worry of packing all the right tools for your photobooth setup! This Photobooth a tool-free  to make your life easier. Its innovative design allows for assembly without any tools required, giving you a hassle-free setup experience. No more searching for a screwdriver or an allen wrench, just easy and effortless assembly.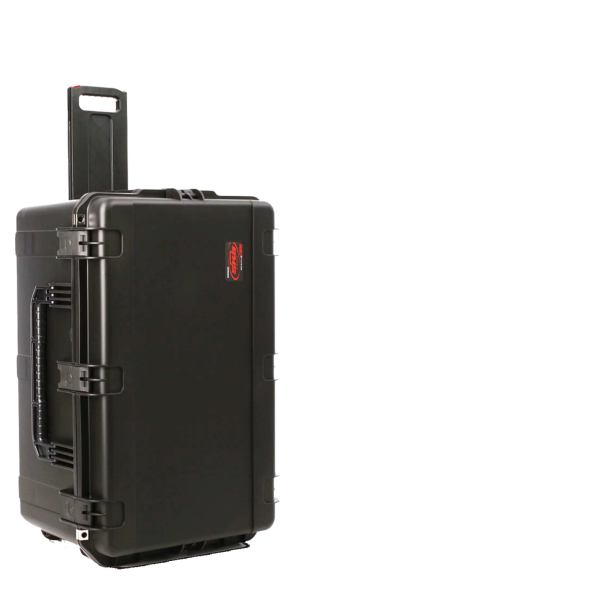 CUSTOM ROLLING CASE
Our premium compact travel cases, renowned for their exceptional quality and durability. Our travel cases are designed to provide maximum protection and ease of transportation for your equipment.
The case features a waterproof exterior and is equipped with wheels and tow handles, making it easy to maneuver and transport. Additionally, the case is custom-fitted with a foam insert to securely hold and protect your Helio unit during transport.