Ring Roamer Photo Booth
LEADTIME: Ship within 3-5

 

Days
Ring Roamer Photo Booth | Button Controlled
Just 3lbs after you add your own iPad Pro to it. The V2 (Button-Controlled) internal board and components have been redesigned and upgraded to help ensure flawless performance! 

• Weighs just over 3 lbs when you add your OWN iPad to it
• Custom engineered programmable LED lights
What's Included:
1x Ring Roamer V2 (App-Controlled) PATENTED
1x 5ft Charging Cable
1x 110v-220V Power charger
1x Programmable Button (to control LED lights)
What else you need?
1x Powerpack (click here to buy)
1x Photobooth App (FREE 30 days trial) 
1x Stand Kit (click here to buy)

Note: iPad is not included in this deal
Mobile Photobooth
The Ring Roamer is a 3lbs Mobile Photo Unit. It was not designed to be on a tripod or a monopod - it was designed to be "in" the party, be "on" the dance floor, be "in" the crowds! But if you want to mount on stand - We offer that too!

If you think running a photo booth is fun and interactive, wait until you Roam a party! You will get people chasing you down, people will form lines on the dance floor or at a concert. It's a whole new experience.

And one last note...

The Ring Roamer DOES NOT use a NEWER Ring Light. The Ring Roamer is custom built - and you can't buy any of the parts at your local Home Depot
RAINBOW LED LIGHTS
Features
The Ring Roamer is the lightest handheld roamer on the market featuring Customizable RGBW LED lights. controlled by a smart single button integrated in the handle.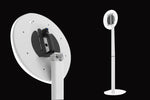 RING ROAMER STAND
The Ring Roamer Photo booth Stand allows for the Roamer to slide onto the bracket and off with ease. Click here to buy (Ring Roamer Stand)