Marquee Photobooth Diy Shell
Simple and functional
Light up your events with the Marquee LED. The multi-colored LED's is sure to attract the crowds attention. This booth boasts a 12.3″ viewing screen and is still very portable and lightweight.
ring light & fittings
You can fit any type of camera in it. A good fitting
is available. A ring light is fitted in the camera holder to get a bright
glance of a picture. It enhances the camera quality.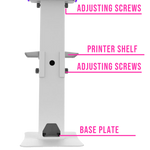 Easy to packup & setup
This is an amazing feature of this shell is that with the help of this screw you can separate the pieces to pack it. It has own case, no bulky flight cases or trolleys needed. Easy to setup individually.
Marquee Photobooth DIY Shell for Surface

LEADTIME: Ship within 3-5

 

Days
The Marquee Photobooth is durable, compact, and lightweight.
In addition to the attractive design and unsurpassed quality, it is also easy to set-up and breaks down allowing you to transport from one event to the next in a rolling case.
The RF Remote controlled chasing LED edge has over 300 presents giving you an array of options.
The Halo ring light has an external dimmer knob for those wanting a softer photo.
The aircraft-grade aluminum enclosure and fine texture durable powder coat painted photo booth is compatible with Surface Pro  4 to 7
Unlike large bulky photo booths, this photo booth does the job with less bulk and helps create fond memories
Features
Wide range Tilt
RF Remote controlled chasing LED edge with over 300 presets
Robust yet lightweight aircraft-grade aluminum
Highly stable Aluminum base
SYNCHRONIZE

 

Dual

 

LED

 

Edge Accent
Aircraft-grade aluminum enclosure
Attractive fine texture durable powder coat painted
Compact design fits in one rolling case
Quick mount baseplate alignment plate
Total weight 25LBS
Supported Displays
Surface Pro 4 to 7 
Acer Alpha switch 12
What's Included?
1x Marquee with tilt-able Head unit
2x Columns 
1x Baseplate with the new feature quick install alignment plate
1x Synchronized Remote controlled LED edge accents chasing light
1x monitor housing/brackets and wire management design
1x Halo 2700lm touch-capacitive Dimmable Ring Light
1x 160W Xenon Strobe Flash
1x Bounce Card
***Vinyl wrapping die cut available upon request!