Helio V3 Ipad Ringlight Photobooth
Helio V3 iPad Ringlight Photobooth

LEADTIME: Ship within 3-5

 

Days

Design Update
V2 Changed the Column wider and  made the Backdoor removable
V2.1 Added battery compartment
V3 Changed the design and Construction to all Aluminum and added more battery compartments. also added a hinge doors

This is a highly portable booth that you can take anywhere and then use to carry out a thoroughly professional job even in demanding circumstances. In addition, the sharp looks and cutting-edge design make the HeliO Booth absolutely perfect for a newcomer to the industry who wants to turn heads and make a massive impression very quickly.

Features
Beautiful presentation made of robust, high-quality materials
Branded photos and custom messages that are 100% customizable
Clever manual tilt facility allows for true flexibility
Mounted in either Portrait or Landscape orientation as needed
Halo ring light for enhanced lighting
Modern, head-turning looks
Advanced social media sharing functions work directly with the most popular sites
Built-in Battery Pack Compartment
Powerful analytics software lets you track all the crucial data
Cloud management facility for ease of use
Data capture to let you get to know your clients
Supported Displays
iPad Pro 9.7″, 10.2", 10.5″, 10.9" or 11 inch display
Enclosure
Cold Rolled Steel Columns
Attractive fine texture powder coat painted finish
Highly stable Aluminum base
Total weight 35LBS
Included Components
1 x Helio V2 tilt-able head unit with Halo Ringlight
2x Columns
1x Baseplate
1x iPad Charger
1x Power Supply
3 Events FREE iPad Photobooth APP 
Not Included
12V Battery Pack link: (Click Here)
Social Media Sticker link: (Click Here)


iPad Tablet
***Vinyl wrapping die cut available upon request!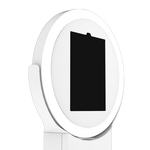 Fits majority ipads
Our Photobooth is designed to be compatible with a wide range of iPad models, including the 9.7-inch, 10.2-inch, 10.5-inch, 10.9-inch, and 11-inch versions. This feature allows you to easily connect your iPad to the photobooth, giving you the ability to control the camera and view your photos in real-time. Whether you have the latest iPad model or an older version, our Photobooth ensures that you'll be able to take advantage of all of its features and capabilities.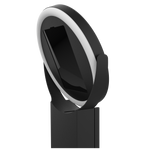 180 degree Tiltable Head Unit
Our state-of-the-art photobooth comes equipped with a tiltable head unit, allowing you to capture a wide range of subjects with ease. Whether you're taking a photo of a large group or an individual, the tiltable head unit makes it easy to adjust the camera angle to suit your needs. This feature makes the photobooth versatile and perfect for any occasion, from weddings to corporate events, and more. With the photobooth's tiltable head unit, you can be sure that you'll capture the perfect shot every time.
Rotating Face Plate
Our Photobooth is designed with a quick and tool-less face plate orientation system, allowing for easy switching between landscape and portrait photos. This feature allows you to take photos in your preferred orientation, ensuring that your photos are tailored to your specific needs. With its easy-to-use design, you can quickly switch between landscape and portrait modes, making it ideal for any occasion.
Go Wireless
The Helio V3 is designed to work seamlessly with a 12V battery pack and can operate for up to 8 hours on a single charge. The combination of the Helio V3's 8-hour battery life and the 12V D/C Portable Charger makes it a perfect choice for events that require extended use and mobility.
baseplate aligment guide
Our photobooth's column and baseplate feature a quick alignment design, making assembly easy and efficient. This design innovation simplifies setup and is a user-friendly feature.
Helio V2.0
Assembly Video
Subheading
Featured collection